ARPON®
Emulsifiable concentrated insecticide and acaricide. Its active ingredient, Cypermethrin, is a contact insecticide belonging to the type II pyrethroid group, which are characterized by containing an alpha – cyano group in its molecule. The type II pyrethroids principally affect the Sodium channels in the nerve membrane, and cause a prolonged duration of the transitory increase in the permeability of the membrane to Na during nerve stimulation. This action causes a quick paralysis to the insect. Cypermethrin has a quick and persistent effect.
ARPON® is effective against:
Bovine and horses: flies (Haematobia irritans, Musca automnalis, Hydrotaea irritans).
Bovine: lice (Lignonatus spp. Haematopinus spp.)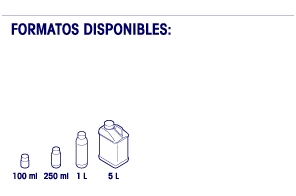 Additional information
| | |
| --- | --- |
| Composition | Cypermethrin: 10% |
| Nº reg. | 601-ESP |
| Formats | 1 l., 100 ml., 250 ml., 5 l. |