LETAL® Plus
LETAL® Plus is a micro-granulated insecticide and acaricide capable of eliminating all kinds of crawling insects such as fleas, ants, ticks, spiders, cockroaches, etc in an effective way. Unbeatable results are obtained for the elimination of insects from all kinds of livestock facilities, veterinary clinics, slaughterhouses, and livestock transportation vehicles. Its formulation in micro-granules confers great facility of use together with a better resistance to moisture, prolonging its efficacy over time.
The product must be applied homogeneously at a rate of 6 to 12 grams per square metre. This ca be repeated as necessary when changing the bedding or every 10-15 days.
Its microgranulated formula allows for an easy application. Since the product is dyed in blue, it is easy to notice the areas already treated with the product. It provides a more residual treatment than traditional powdered insecticides.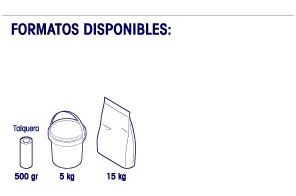 Additional information
| | |
| --- | --- |
| Composition | Deltamethrin: 0.2%, Excipients: q.s.p. 100% |
| Formats | 15 kg. coat, 5 kg. bucket, 500 gr. powder box |